So much Tumblr these days actually. Don't fuck around!:
Doodnik's Power Prison
RILEY IS MAKING A NEW ALBUM

He's been working on it for a year actually... But it's so close to being done right now, and we're all fucking stoked over here, so we made this poster to hype it up. Maybe we should leak a track... We'll see.
ALSO
Some crazy motherfuckers called EGYPTIAN ART STRIKE are leaving on a tour to the west coast on January 27th, and Mallory Knox is going with them, so that's going to be Hectic As All Fuck... *shifting into the first person* I wanted to do something pretty different from previous Mallory Knox performances for this tour, enough so that I wanted to use another name, but I'm silly like that, always off gallivanting in the land of new names for everything instead of practicing actually making music-- I was thinking ICONOCLASM, even though of course there's a black metal band called that already. It's not like there wasn't a crappy UK rock and roll band called Mallory Knox already. I thought Iconoclasm would represent what I wanted to start doing; (hmm I started writing this, didn't post it, went on tour and here I am finishing writing it.) :::::::::::: MAKING THE EVIL AND THE SEXY FUCK AND DESTROY EACH OTHER UNTIL PEOPLE HATE ME OR DANCE, I guess ultimately. You know? Cruststep? Screaming a Jay-Z cover through autotune? This is what it looked like in Calgary, from behind Dandy's camera at least:
Some people said they liked it, and some people were certainly offended, but no one ever danced. Hopefully I keep bothering with this.

NEW MUSIC TO LISTEN TO /// NEW DOODLES TO GAZE UPON ///
MORE SILLY POLITICS TO ADOPT

HEY THERE
A few things happened this month.
First, we committed some inane pseudo-political ramblings to paper, copied and folded it, and handed it out at the local University's Orientation Week, harassing students, professors, beer garden patrons and Elections Manitoba volunteers. "Hey want some neo-hipster propaganda?", "Want some communist bullshit?", "This propaganda would go well with your sunglasses", were some of one roommate//comrade's witty advances.

The leaflet was entitled "Oven-Baked Panzerotti; Prices Subject to Change" and made prominent use of the hammer and sickle.

"Our Communism has no need of the dogmatic beardos of 20th century revolution. We just hate society and want a creepy name for how we feel, Satanism works too. It means having something in common, beer, a house, punk rock, cultural reference points, and not least a belief that working class people deserve whatever they can get, by any means necessary. 'Never give up hope. Never surrender. Go Jets Go!'

Our Party is dancing in the kitchen sharing food we get for free and fantasizing delicious violence against all the friendly cops of post-modern society system." ,

proclaimed the xeroxed page, blatantly referencing Call.

The effects of this campaign remain to be seen.
THIRD,
Mallory Knox played a show on September 17th at a new cafe / venue place. J. R. Hill backed her up on his laptop and midi controller quite effectively, even if the set was sometimes pretty haphazard. Also appearing were the questionably named 'Sans AIDS' (Edmonton), the insistently anti-patriarchy Katie and the Lichen (Vancouver), both on their way to Pop Montreal, Soft Core (from Winnipeg), and best of all, that awkwardly despondent minstrel Todi Stronghands (from everywhere). It was kind of a cool show. That track 'Heal Up' from the Katie and the Lichen CD rules pretty hard.
But, to the point, the entire Mallory Knox set was recorded, and after a few hours of fucking around on Ableton (So much credit must go to J. R. Hill!), three of the songs are maybe worth listening to, and available for download on mediafire. We call it RAW PUNK DOESN'T $ELL. Do it!

FINALLY, there's a couple new drawings on here. Look in 'Prison' for 'Sliced Bacon' and 'Porn' for 'Gretchen's Bachelorette'. They're pretty epic.
k, back to watching Revenge of the Sith on this borrowed laptop.
Tuesday, September 20

HEY SO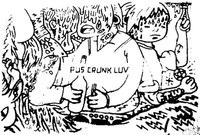 You might know that I made that tape, PUS CRUNK LUV (download here), well this scenester dude I know decided to review it in the U of W campus radio music magazine he edits, STYLUS. I like how he uses knowing my personal history to show off his underground cred, despite displaying his ignorance to people who actually know the internal dynamics of the anarchist "community". It's a glowing review in classic presumptuous music critic style, but the most irksome part to me is the use of the pronoun 'he'. Don't assume my gender, Taylor! The performer Mallory Knox at least, is a womyn. Here it is:
"Mal Henri, Pas Crunk Luv (sic); Mal Henri, as I'll only refer to him as (sic) his pseudonym, grew up outside the public school system, a frequent volunteer at CKUW, and is now a denizen of the A-zone. And if nothing else of his zines, his patches, his artwork, (and so much more) this cassette is a testament to his sprawling creativity. Sampling TV shows and movies, referencing hip hop both mainstream (Kanye West, Jay-Z, Black Eyed Peas) and underground (Das Racist), using text from novelists (Cormac McCarthy, Gabriel Garcia Marquez) and penning original acoustic anarchist tunes, Mal Henri's creatively off in a world of his own -- but is so grounded in real life it bites. Like in "You Have A Way"; "If we don't show up to protest it's hella shitty, but how can we, when we run to and fro to the flow of cell phones and bells ringing?" So many anthems, so many introspective moments, but by no means legal, I'm guessing as a sly "fuck you" to intellectual property -- so the entire tape is for download at his YouTube user page. Highly recommended." --Taylor Burgess

I edited the misquote.

I like what my friend Esmeralda Vomiteer said on their VOMIT ASSAULT TAPES (which is a sweet mail-order mixtape distro, check it out) better:

"THIS ONE'S FOR YOU, YOU FUCKING HIPSTER-DIRTY-DANCE-PARTY-COP-HATING-WINGNUT-ANTI-CAPITALIST-EMBITTERED-PRE-POST-WHATEVER! (...) This really is an ALL CAPS tape for an ALL CAPS era. "
From the liner notes:
"FILE UNDER: WTF?, Anarchist Pop Music, Post-808s & Heartbreak Folk-Punk, Embarassments to the Milieu, Poser Rap, P.C. D.I.Y.'s Answer to Brokencyde, 2010 Top 40 Rehash, Dumpster Hipster, Emo in Drag, Scenester Pastiche, Electro-Crust for the Nihilist Dance Party, Solidarity with North African Rebellion, ...?
how's that for self-promotion?

Friday, September 2, 2011

HERE IS WHAT I TYPED IN MY IPHONE ON THE RIDESHARE TO TORONTO ON MARCH 25TH

I THOUGHT YOU COULD BE THE READER.
(g-shark soundtrack to reading: Welcome to Heartbreak (Kelly Dean remix))

Want to destroy everything that does not reflect me, and my self too, unfortunately there is some spillover onto what little is left.
Want to start a band? With M.I.A synths stitched into Tragedy (the drummer is a piece of shit) and Rudy Pen riffs with dental floss, robotripping emo lyrics. No time, no bass player, fuck.
FUCK THIS LIFE
Want to smoke weed every day to amplify the hate.

By what pronouns shall we refer to each other? How shall we destroy the chain link language that enmeshes us, sinks into our skin and consciousness, as into a gnarled old elm. This person that you like was at the party, you didn't talk to them again. Remember that time in their apartment when that image of them was seared into your brain, you can't shake it despite the peeling back of layers to reveal the shitty things they've done to wimmin you know. It's them rolling off their own couch at noon still in jeans and the punk vest with the wu-tang back patch chewing the pizza that their friend forced into their mouth after they blacked out last night, swishing the tall cans on the coffee table and drinking down a good leftover fifth of one of those yanjings... Now putting on a record - something that represents their conflickt with the world to you;
fuse
, or
decontrol,
or more likely
6 feet deep
and rolling a joint, rubbing thumb thru stubble absentmindedly, the smeared lipstick and dark purple eyeshadow that was so intense the night before looking natural in that morning-after way. And when that weed is all up in their bloodstream and the smoke is already fading from the room they'll shrug on a carhart jacket, tuck a couple paint markers into the inside pocket and slip on whatever shoes going out into the blinding light of the world to tag some shit and be predictably sickened by the bland white magic of capitalism...

Do others compose crushes in this way, imagining the subject and their form of life alone and dying of beauty?

I tend to write personal-political tracts disguised as poetry in the first-person plural. Who do i think i am speaking for? Myself and a handful of punx I have met and had things in common with, sometimes even a bed and special ways of doin' it. But "we" want to have each other's hands to hold, I think, and to not miss chances to dress in black track pants and balaclavas in groups of as many as possible and then enact our sickness on the city.

I've been came on by this world, dripping neon signs and blinding screens flashing advertisements all down my face, and sometimes I liked it, but I've also been masticated, chewed up and spit out by the world, and now I hate it, want to crack every windshield because every car looks like the ones that didn't stop for me in Nipigon. A craigslist ride, money changes hands in the lot of an Ontario gas station, I can feel the nets draw tighter around our ankles now, it shall be forbidden to move across the earth for free.

I made it out to seem like I was heavy into that Agamben shit maybe but maybe all I got from what little I read was that hyphens are cool, so I had the "signs of (my) truth tattoed across (my) open-ended vagina"* :
becoming-nothing
with a bottle of 74 in my hand; killing ourselves with drugs and alcohol, sabotaging our friendships with free love and our freedom with our crimes, but wtf the fuck else is that shit for?
<<3<< <#3
p.S> SEND ME MY marxengels NOTEPAD NOTE
* Comment #1, GIL SCOTT-HERON, passed away while I was in Halifax this spring, may he rest in peace

------------

WHAT DUBSTEP?